Frequently Asked Questions
Warranty
C-View Windows Pty Ltd is a member of the Australian Glass and Window Association and as such conform to an Industry Code of Conduct designed to protect consumers.
Subject to the conditions and limitations below C-View Windows Pty Ltd guarantees its products against defects arising from faulty workmanship or materials for six years from the date of delivery or installation.
For the purpose of this warranty "the product" can mean a window or door product ordinarily manufactured and sold by C-View Windows Pty Ltd.
Conditions and Limitations
The product is installed in accordance with the relevant Australian Standards and building practice. Unless otherwise specifically confirmed in writing, C-View Windows Pty Ltd accepts no responsibility for waterproofing and/or re-sealing of penetrations and such remains the responsibility of others.
The product has been maintained according to C-View Windows Pty Ltd maintenance recommendations and has not been subject to misuse, physical abuse, or neglect.
In respect of window and door products, this guarantee is void if C-View Windows Pty Ltd insect screens, safety screens and Invisi-Guard Screens™ screens have not been manufactured and fitted by C-View Windows Pty Ltd installers or personnel nominated by C-View Windows Pty Ltd;
Manufacturing standards and tolerances are not deemed defects, nor are industry variations in the colour of aluminium componentry.
C-View Windows Pty Ltd accept no responsibility for glass breakage (except for faulty workmanship or materials). Toughened glass, float glass and laminated glass is guaranteed against defects and degradation for one (1) year.
Moving parts, where applicable, which wear out as part of normal use are guaranteed for one (1) year.
This Guarantee is limited to the repair or replacement of the faulty product at the company's discretion but does not extend to the installation or refinishing of a replacement product. No liability is accepted by C-View Windows for personal injury, loss or claim or property damage, installation costs, material or other costs (whether special, consequential or otherwise) howsoever caused or arising whether direct or indirect.
This guarantee is in addition to all other rights and remedies in respect of this product to which you are entitled under the Competition and Consumer Act 2010 (Cth).
Warranty Claims
Claims under this guarantee must be made within one month of the defect arising in the product. Other than as provided by law C-View Windows Pty Ltd will repair or replace the product to the extent that it is functionally equivalent to the original product supplied.
Copies of documentation showing the purchase date of the product should be included with your written claim and forwarded to the C-View WIndows Pty Ltd office. All warranty claims will initially require a deposit to be paid. After inspection by C-View Windows Pty Ltd personnel or authorised agents, the customer will be advised if the claim is covered under the warranty. If the claim is under warranty the deposit will be refunded and the product will be repaired or replaced by C-View Windows Pty Ltd. Otherwise, upon the customer's request, C-View Windows Pty Ltd will provide a quote to rectify the problem.
Maintenance of Powder Coated Aluminium Finishes
In a rural atmosphere, cleaning may not be needed more frequently than every 6 months. In industrial and marine environments, more frequent cleaning (e.g. monthly, every 3 months is necessary). It is important that non-abrasive mild detergent solution is used for cleaning. Add the non-abrasive mild detergent solution to a bucket of warm water. Wet a clean soft, non-abrasive damp cloth then wipe the aluminium. Make sure that the surfaces are thoroughly rinsed after cleaning to remove all residues.
Maintenance of Window and Door Glass
All glass surfaces should be kept clean by prompt removal of all dirt. Use clean water and soft clean rags as buttons or grit can scratch the glass. In some instances, a small amount of mild detergent may be of some benefit. However, DO NOT use any form of abrasive cleaner or household cleaners. When using detergent make sure that the surfaces are rinsed well after cleaning to remove any detergent residue.
Special instructions for Low-E coated glass products
The special coating on these types of glass is generally more difficult to clean.
Use only soft, clean cloth, free from grit or buttons with a mild soap or detergent and water or recommended glass cleaner solution.
Make sure to dry off excess water.
DO NOT use abrasive cleaning agents.
Maintenance of Window and Door Tracks
Excess dirt or grit should be removed from window and door tracks, either by vacuuming or brushing out.
Windows and Doors are designed to allow water into the sill channel, which is then drained through drain holes. The drain holes must be cleared of any obstruction.
Maintenance of Window and Door Rollers
Remove the sliding panel of the product from the inside of the house. With the window or door partly open, lift the sliding panel up into the head while tilting the bottom of the panel towards you, out over the sill. Slide the panel downwards to remove it from the frame.
Use a vacuum cleaner with a narrow nozzle to clean the track thoroughly.
Use a soft rag and water mixed with mild detergent to wipe the track and rollers.
It is important that rollers are cleaned 3-4 times a year.
Maintenance of Window and Door Hardware
General periodic maintenance is required on all hardware supplied such as locks, hinges, catches, closers and the like.
The external finish of hardware must be kept clean by removing any harmful residue (especially salt spray) from the surface using a non-abrasive cleaning agent.
Internal mechanisms of locks, catches, etc should be kept in good working order by applying a light spray of lubricant (WD40, RP7 or similar).
Care should be taken during maintenance of internal mechanisms that any finished surface (e.g. paint etc) is well protected to avoid damage.
Understanding Glass Rules
Understanding Glass Rules - Maximum Areas
This table represents an extract from AS1288-2006 and should be used as a guide only. Maximum areas do not take into account design wind pressures. To calculate minimum glass thickness for stress at ultimate limit state and deflection at the serviceability limit state pressures, AS1288-2006 Supplement 1 must be used. For a complete version including minimum thickness of annealed glass, refer to the published standard.
Note: AS1288-2006 states that the maximum area for 3mm annealed (float) glass is: n 0.85m2 for monolithic annealed glass or; n 1.36m2 for annealed glass incorporated in an IGU.
---
In the example, the product configuration on the left would be comprised of a combination of 4mm and 5mm monolithic annealed (float) glass. However, if the same opening was replaced by a single fixed lite, the minimum glass requirement is 8mm toughened glass at the very least. As a result, the product on the right would, in most circumstances, be site glazed with additional costs (i.e. crane lift, on-site labour) accounted for in the final price. Although more visually appealing, this product would be significantly more expensive due to size restrictions imposed through AS1288-2006
Understanding Glass Rules - Human Impact
Critical Locations for Doors
Glazing in all doors (including but not limited to hinged, sliding, stacking and bi-folding) shall be Grade A safety glass in accordance with AS1288-2006 Table 5.1 and AS1288-2006 Supplement 1. Side panels next to doors are deemed to be subject to human impact where the nearest vertical sightline is less than 300mm from the nearest edge of the doorway opening and within 1200mm of the floor level and therefore glazing in this instance shall be of Grade A safety glass.
---
Glazing Mistaken for a Doorway
Glazing capable of being mistaken for a doorway or opening must be Grade A safety glass. By definition, glazing is considered to be capable of being mistaken for a doorway if all the following conditions are met:
The daylight width is greater than 500mm
The daylight height is greater than 1000mm
The lowest sightline is within 500mm of the floor level
The glazing is not opaque, patterned or leadlight
Where a transom or hand rail is not incorporated within 700mm – 1000mm of floor level
Where a louvre has blade widths greater than 230mm
Understanding Glass Rules - Manifestation
Ensure that the motif has sense of permanency which includes etched or applied that are difficult to remove (kiss or security cut). They cannot be able to be pulled off easily. Standard industry practice is to have etched markings on doors leaves to ensure compliance. If the presence of glass in a door, side panel or a panel capable of being mistaken for a doorway or opening is not made apparent by transoms, colonial bars, or other components of the glazing system, or other decorative treatments, the glass shall be marked to make it visible. However, making glass visible by marking is not a substitute for safety glass where required in this standard.
Marking shall be in the form of an opaque band not less than 20mm in height and located so that the vertical distance from the floor level is:
not less than 700mm from the upper edge of the band; and
not more than 1200mm to the lower edge of the band.
---
Marking is required on any glazing where all of the following applies:
The height of the glazing is greater than 1000mm at any part; and
The width of the glazing is greater than 500mm at any part; and
Any part of the glazing falls within 700mm of the floor level; and
The glazing is not provided with at least one fixed glazing bar, firmly attached to the styles to locate and protect each face of the glass. At least one glazing bar shall be located with its upper edge not less than 500mm, and its bottom edge not more than 1000mm above the floor level. The glazing bar shall have a face width not less than 40mm.
Understanding Glass Rules - Low Level Glazing
Glazing where the lowest sightline is within 500mm of the floor level shall be Grade A safety glass. Ordinary annealed (float) glass may be used providing glazing is fully framed and not less than 5mm thickness up to a maximum area of 1.2m2. Larger areas are not permitted regardless of thickness.
Understanding Glass Rules - Wet Areas
All glazing including mirrors within 2000mm of the floor level in wet areas shall be Grade A safety glass or Grade B safety glass in accordance with the requirements of AS1288-2006 Table 5.1.
Note: Ordinary annealed glass may be used provided it is fully backed by and completely adhered to a solid material in such a way that all pieces remain bonded to the backing in the event of breakage.
Example - Grade A Safety Glass Required
Special care needs to be taken when toughened glass is to be used as a wall material or wall covering near a gas cooking appliance.
In a residential building where the distance from the nearest burner to the surface of the glass is greater than 200mm, ordinary monolithic annealed (float) glass can be used. However, where the distance is 200mm or less and greater than 140mm, a minimum 6mm toughened glass is required.
The recommended minimum clearance from the nearest burner to the surface of the glass is 140mm. Ordinary annealed (float) glass is limited to between 40°-50° where toughened float glass can be used in situations up to 250°
Note: Splashbacks near a cooker require a fire retardant board behind them.
Understanding Glass Rules - Stairway Glazing
Glass within 2000mm horizontally from the bottom of the stairs and 1000mm either side of the stairs is deemed to be subject to human impact and therefore all glazing surrounding a stairway in this high risk zone shall be Grade A safety glass.
Stairways include stairwells, landings or porches where the stair flight has a minimum of two risers
Understanding Glass Rules - Restricted Openings
The guide below outlines C-View's direction in regards to restricted openings in all building types and exceeds requirements prescribed in the Building Code of Australia.
Restricted openings apply when it is possible for a person to fall from an openable window, where the distance to the nearest surface level below (eg. ground, balcony, roof, pool) is 2700mm or greater (A); and
Where the openable portion of a window is within 1000mm of the floor level (B), or the lowest part of the frame falls between 150mm and 760mm of the floor level (C), the openable portion must be restricted to facilitate a 120mm opening.
The above rules apply to any openable window (eg. louvre, awning, double hung) of any size located on an external wall.
Note: Where the openable portion of a window is permanently fitted with a safety grill or security screen so as to prevent access to the outside or where the openable portion of a window is equal to or above 1000mm from the floor level and no climbable horizontal elements (eg. transoms) exist below the openable portion within 150mm and 760mm from the floor level, no sash restriction is required.
Understanding Bushfire Ratings
Understanding Bushfire Ratings - About Bushfire Ratings
In today's climate where summer conditions are turning extreme, bushfires are becoming a regular occurrence around Australia.
If you are contructing a house in a bushfire-prone area, you are required by new building codes to use bushfire rated building materials for construction.
To help you meet these requirements, Bradman's have devoloped FlameShield, a range of bushfire rated window and door products.
Featuring fire rated seals, toughened glass and superior air infiltration, the FlameShield window and door system complies to AS3959 standards
Understanding Bushfire Ratings - How Does It Work
Understanding Acoustic Ratings
Understanding Acoustic Ratings
As a general rule, increasing mass will improve sound insulation. Brick and concrete walls have stronger sound insulating values because they are of greater mass when compared to glass. But because we need glass to see through, to provide natural daylight and to enhance a buildings look and appeal, the need for greater sound control when using glass becomes more important.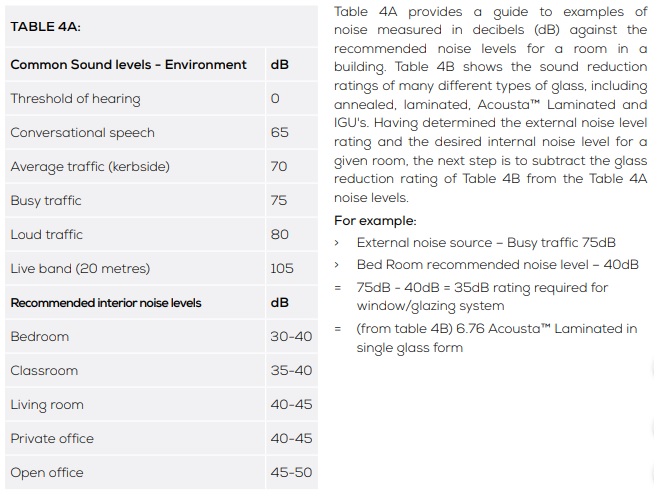 Sound Reduction
Sound reduction will improve with increased glass thickness due to the greater mass involved;
Sound reduction will decrease somewhat with increasingly larger glass areas but not enough to make much difference in the majority of architectural glass sizes;
Sound reduction will improve with the use of laminated glass due to the vibration dampening effect of the PVB interlayer.
Sound reduction will improve with the use of glass/ airspace combinations, but the performance is critically dependent upon the width of the airspace. An airspace of 100mm is generally regarded as a minimum for reasonable benefits at medium to high frequencies. The optimum airspace is about 300mm.
Understanding RW Ratings
The RW Ratings refer to the measure of sound reduction through a wall or other building element. Since the sound reduction may be different at different frequencies, test measurements are subjected to a standard procedure which yields a single number that is about equal to the average sound reduction in the middle of the human hearing range.
Understanding Energy Ratings
Understanding Energy Ratings - About Energy Efficiency
Choosing energy efficient windows will make your home more comfortable, dramatically reduce your energy costs and help to create a brighter, cleaner and healthier environment. Windows are possibly the most complex and interesting elements in the fabric of our homes. They provide light and fresh air and offer views that connect our interior living spaces with the great outdoors.
However, windows can represent a major source of unwanted heat gain in summer and significant heat loss in winter. Windows can severely impact the heating and cooling loads of a building. Between 46%-61% of a home's heating energy can be lost and between 79%-86% of its heat gained through windows. Improving their thermal performance increases comfort and reduces energy costs and Australia's greenhouse gas emissions.
Find your climate zone at http://www.yourhome.gov.au/introduction/australian-climate-zones
Understanding Energy Ratings - Hot Climate Zones 1, 2 & 3
| | |
| --- | --- |
| Considerations | Keep solar radiation out of the home Retain coolness of air-conditioned air |
| Preferred U-Value | Low |
| Preferred SHGCw | Low |
| Other Factors | Windows with high operable areas to maximise opportunity for air movement for natural cooling |
| Star Impact | SHGCw optimised (tinted) – has the potential to improve up to approximately 1 star. U-Value – has the potential to improve up to approximately 0.25 stars for each unit reduction in U-Value. Ventilation – has the potential to improve up to approximately 0.25 stars per additional 20% of openable area. |
| Heating/Cooling Impact | Each star corresponds to reduction in Heating/Cooling requirements of 15% to 30% on pre improved level. Star uplift due to reducing SHGC reduces cooling load but may marginally increase heating load in cooler months. |
| Cost and Green House Gases (GHG) Savings | Approximately 3,000MJ of energy saved per star, mostly cooling – worth about $150-$250 and up to 0.35t of GHG. (Based on Brisbane, 240m house) |
Notes:
This information is a guide only.
For more specific information refer to your window or glass supplier or the WERS Website (www.wers.net)
For window selection, Australian Building Code requirements and energy raters will specify actual U-Values and SHGCw for BCA-DTS or simulation tools such as AccuRate, FirstRate 5 or BERS Pro.
Understanding Energy Ratings - What The Stars Mean
Everything in the 'building envelope' contributes to the overall energy rating. The most important factor is adequate insulation – but windows and doors are also important.
The star system used for window and door performance is to show relative performance, the same way fridged do. A 6 star house need to achieve a specific rating based on its location, and that rating is for the performance of the whole building – with each separate part doing its job.